Product Group:
Greenville
Greenville is a special product range that, through being enhanced by bamboo panels, speaks a natural design language all of its own. Individual models within the range can easily be combined.
Overview of product groups
Numerous combination options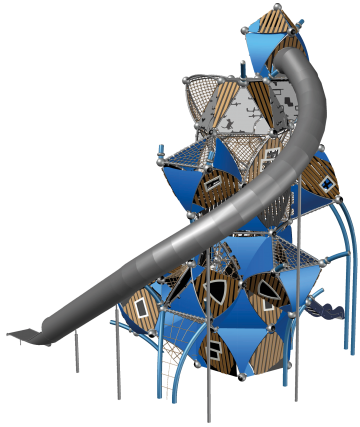 Triitopia
Triitopia combines award-winning design with tried and tested materials! A magical world of climbing and adventure where reality and fiction blend together and evolve into the unpredictable interplay of see-through and closed façade elements that are combined in closeknit, nestled and asymmetric ways. Diverse net pieces invite you to climb, and lead to numerous corners and angles, and up to viewing areas and slides on different levels. Let the various Greenville products merge into one another. A new world will arise.
Triitopia
Triis
The idea of climbing a tree just to see the earth from another perspective is as old as the trees themselves. This idea was our inspiration to develop the Greenville Triis. These beautifully designed playhouses in different sizes need at least an access or a connection from another Trii. Create your own Trii-House-Village.
Triis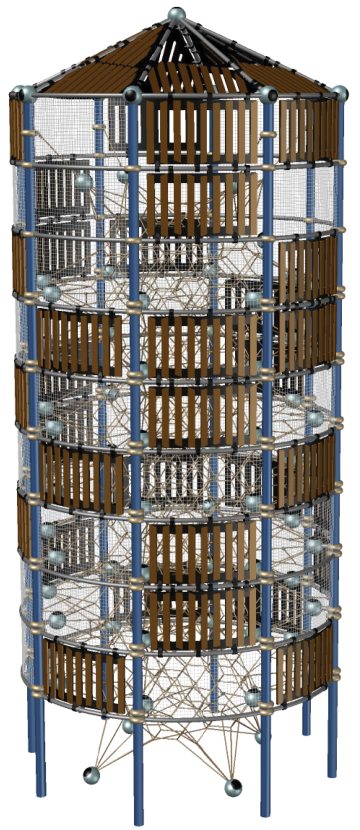 Towers
Further development of the Greenville rope play houses and tree houses has created new opportunities in the design of playgrounds and the utilization of space, while blending in with the natural surroundings. The Towers provide the answer to three key playground requirements. First, their height ensures that maximum play volume can be created in a smaller play space, as is shown in the Greenville Style series, with tall towers constructed in diverse designs. Second, the Towers can be combined in endless con gurations through the use of exciting connecting elements. And third, significant height differentials can also be compensated for because of the exible nature of the bridges and tunnels.
Towers
Playhouses
The space net as a play component is the perfect base for a structure on a playground to climb in. Climbing in a three-dimensional net is a challenge and stimulates 3D thinking and the psychomotor skills of children. Three-dimensional nets in an outer frame also offer numerous combination capabilities and thus outerframe structures are used to build a huge combination from the start or keep adding to it step by step. The Greenville structures even become better by adding the bamboo panels to give them the resemblance of a classic play house in nature, while still being more valuable with a three-dimensional net for climbing and the space for recess like a playhouse.
Playhouses